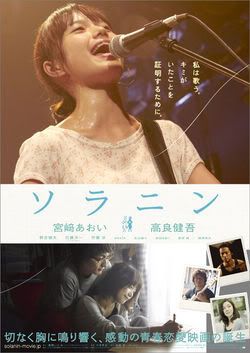 Synopsis:

Meiko Inoue is a recent college grad working as an office lady in a job she hates. Her boyfriend Naruo is permanently crashing at her apartment because his job as a freelance illustrator doesn't pay enough for rent. And her parents in the country keep sending her boxes of veggies that just rot in her fridge. Straddling the line between her years as a student and the rest of her life, Meiko struggles with the feeling that she's just not cut out to be a part of the real world.

Click link: Solanin

Words from me:

The movie was a manga adaptation from Asano Inio's art and it has so many significant parallels that I felt like I was reading the manga all over again while watching the movie with the plus of music. (Which was pretty fantastic by the way) Though some situations were not brought up in the film, i.e. one of the guys was really in love with the main protagonist but that wasn't really dwelled on, the thought of the manga was still incorporated and didn't make much difference.

I think I enjoyed Solanin because of the fact that I was able to read the manga in the first place and was able to appreciate it more due to the involvement of music. Seeing Aoi Miyazaki sing out in the stage was quite amazing to watch. This was the first time I've ever seen her sing like that and a rock genre nonetheless. I just hope that wasn't a voice over or else I might tear my hair out because I find her really cool doing that rock gig thing. Adding some piece of information I was able to gather about the sound track, Asian Kung Fu Generation was the one who produced the rock songs that Naruo's band performed, though it was still penned by Asano.

I won't be saying much about the movie anymore because I have the same thoughts as with the manga, so I'm linking you there instead: SOLANIN manga

One last thing… they were able to produce Meiko's t-shirt from the manga for the Live Action movie. That one, I really liked because it meant that they were really going through with details.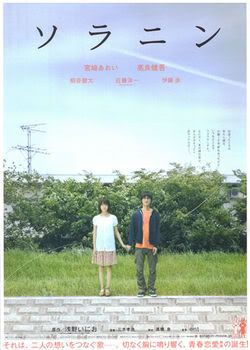 Solanin's promotional poster.
This image made me laugh my ass out, since Meiko was being reprimanded for being too immature that she had to photocopy her own hand with a sign like that. The manager was telling her that she's not in college anymore. (Aoi Miyazaki was cute here too!)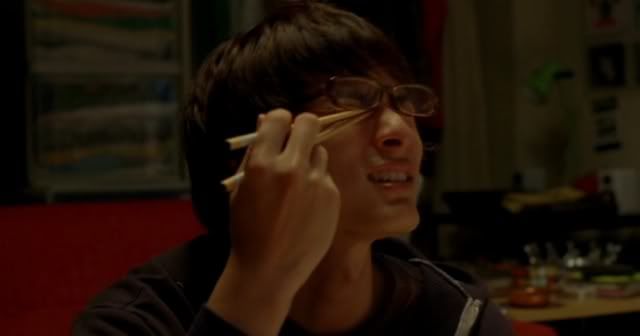 Me love Naruo's facial expression here. (First time I've appreciated Kengo Kora as an actor)



One of the scenes I really appreciated because this is the scene where it shows that Meiko and Naruo was a real couple with lovey-dovey moments.
This has a parallel scene in the manga version which I also loved. I like the thought that Meiko was trying to be strong even though she was still broken and that Kenta (who was actually in love with her, it was explained in the manga but not in the movie) was trying to be strong for her but couldn't help himself from crying.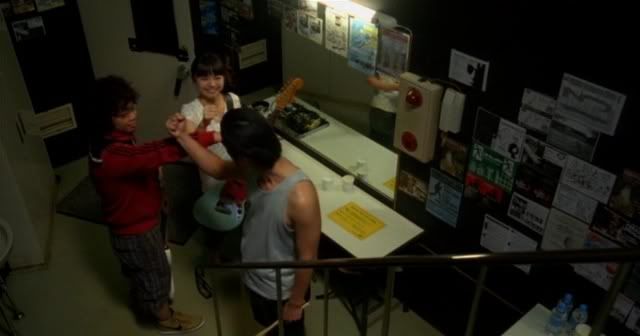 This was a really heart warming scene for me since Naruo's friends/band mates were trying their best to comfort Meiko and to let her become their lead vocalist/guitarist shows how important she is to them. Clearly, they are setting aside the fact that they are a band and that Naruo used to be their leader so they could help her cope up with the pain. (I personally think that they allowed her to take over so their pain would also be eased by having her around.)



The best part and my favorite scene. Meiko started singing Solanin and she rocked! (More like Aoi Miyazaki rocked. ^_^v)